A few weeks ago I wrote about how I had been struggling as I was writing my new historical novel. Nothing in the story seemed to be working, and for whatever reason I was at a loss as to how to fix it. I decided to give myself some time off from writing. It was the best decision I could have made since it allowed me to take the brain break I needed. I've been writing long enough to know that the ideas would show up when they were ready, and I was right. Only this time I had some help from an unexpected source.
About two years ago I bought Scrivener as a screenwriting tool. I used it to write a couple of screenplays, and that was that. I saw that it could be used to write novels, but when I looked at the directions they didn't make sense and at that time I didn't have the patience to fiddle with it. For whatever reason I found the directions confusing and the buttons and other tchotchkes didn't make sense. I ended up leaving the program to languish unused and hidden in my Applications folder. While I was taking a break from writing my novel, I kept reading these posts about Scrivener and how all these writers said the program changed their writing for the better. Kristen @ She's Novel pins these Scrivener Tutorial Posts on Pinterest, and Joanna Penn from The Creative Penn offers a course about how to use Scrivener. As I read these articles, I remembered that I had Scrivener on my computer. I wasn't sure if the program could help me through the fog that was my novel, but I figured it couldn't hurt to try.
Before I go on, I should point out that I'm not getting any compensation from the nice Scrivener folks at Literature and Latte for this. I'm simply sharing why I've come to love the program and how it helped me write my novel after I had been stuck in the mud for some months.
When I decided to try Scrivener for novel writing, I looked at the directions again, and again they didn't make sense. This time, though, I was motivated to keep trying, and I watched some of the Scrivener tutorials on YouTube. The tutorials were integral in helping me understand what the buttons and tchotchkes were for and how they were used. My suggestion is to not try Scrivener without first watching a few of the videos or taking an online class. Where most computer programs can be figured out by twiddling with them, I find Scrivener needs further explanation. It seems confusing at first, but after I watched a few videos and played around with it I found it rather easy to use.

I'm not going into step-by-step details about how to use Scrivener since there are so many tutorials that do that far better than I can. I'd just like to point out some of the features that helped me gather my thoughts. First of all, I like that you don't have to write your novel in one long file. You can write your story in separate chapters or you can write your story in scenes if that's the way you think. You'll notice on the left-hand side of the screen the different folders for each section I have so far. On the same screen you can also see your synopsis of the section you're writing, and you'll notice I added my research notes in the bottom right hand corner. This way I don't have to go back and forth between my research notes and the section I'm writing—the notes are right there on the screen. If you find those doo-dads on the screen too distracting, you can use the full screen mode so all you see is the text you're writing.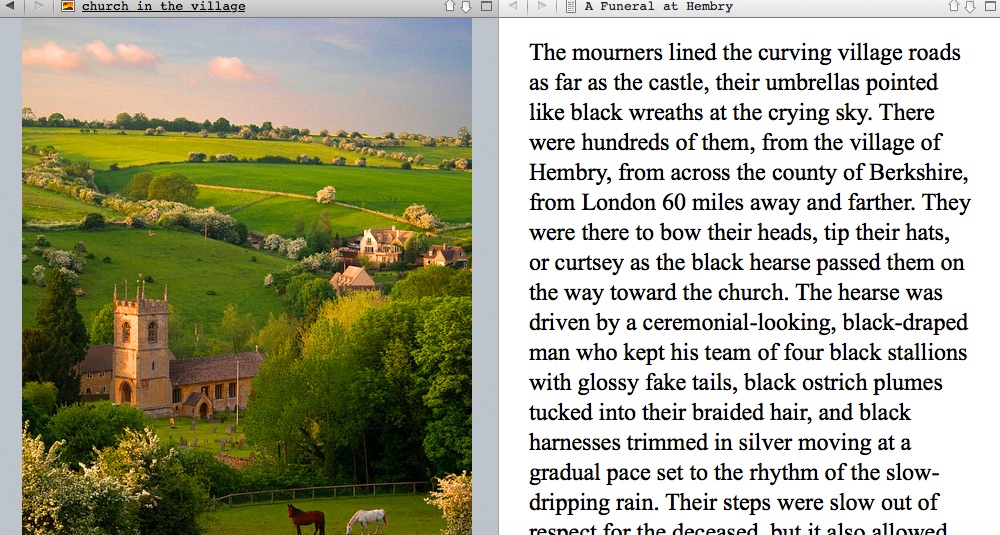 Now here's something I really love about Scrivener—the fact that you can import photos. The novel I'm writing is historical fiction, set in England in 1870, and so of course I need references about clothing, buildings, gardens, furniture, etc. If I want to see a particular photo, all I need to do is scroll down to the folder where I store my photos, click on the one I want, and there it is. If I split the Scrivener screen (another handy-dandy function) I can have the photo right in front of me as I describe it. In the example you can see the photo of the church in the beautiful English countryside, which is the photo I used as inspiration for the funeral scene that happens at the beginning of the story. With the split screen I can look right at the photo while I'm writing. Since I tend to use photos to inspire my writing, this feature alone makes Scrivener a winner for me.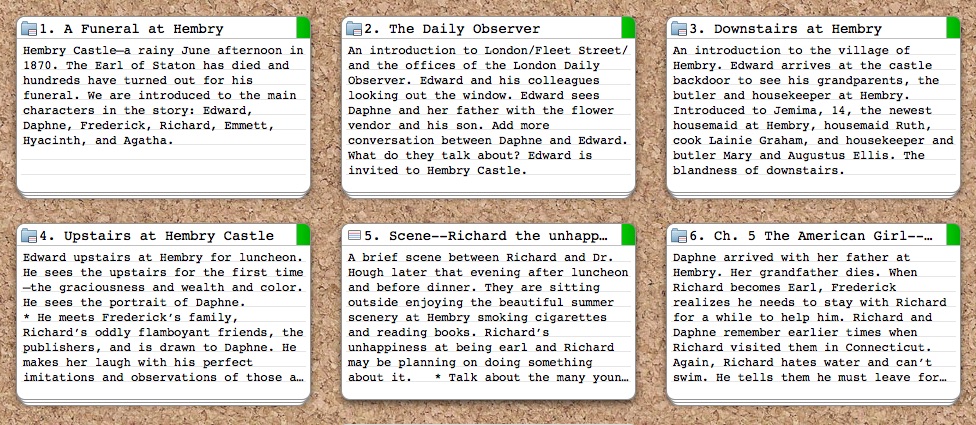 Another thing I love is the corkboard. I know a lot of writers who have real corkboards on their walls in their writing space. They write scenes, ideas, notes, etc., on index cards and pin the cards onto the corkboards. I've always loved that idea, but I don't have enough room on my walls for a corkboard so I was never able to try it out. With Scrivener's virtual corkboard I don't need room on my walls. I can create virtual index cards with all of the same details—characters, plot, research, ideas, notes. This feature actually helped me figure out the plot because I could see at a glance when the order of the scenes didn't fly. I was also able to spot that there was some missing information—missing scenes, if you will—and I was able to add new cards with information about what might happen in that scene.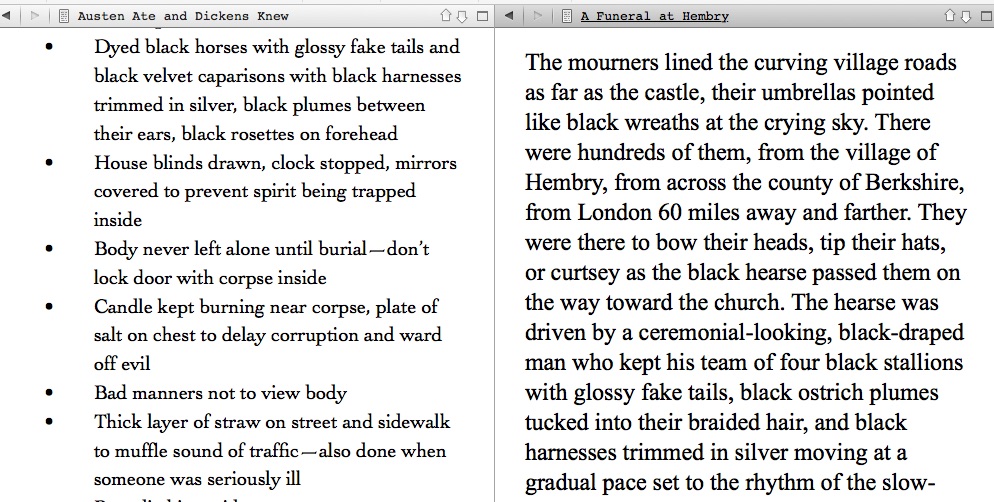 I also like the fact that I can add my research notes. Since my novel is historical fiction, I have notebooks of research that I need access to while I'm writing. Instead of keeping a messy pile of notebooks around, I typed my notes into the Research section of Scrivener. From now on, instead of handwriting my notes I'll type them into Scrivener. If you've typed your notes on another program like Word, Scrivener allows you to import them so you don't have to retype them. And just like with the photographs, you can split the screen and look at your notes while you're writing. As I said earlier, I like to add my research notes to the bottom right hand corner of the page, but if I have a lot of research notes for a particular section, I'll probably split the screen so I have easy access to all the information.
Through the process of adding my novel to Scrivener, deciding on the folders I needed, using the corkboard, and importing the photographs and research notes, I was able to sort through the story. As a result, a lot of the problems I had are gone. I understand the characters better, I have a plot I'm happy with, and I can see where the story is going and what the underlying themes are. What Scrivener did for me was allow me to think through the story in a step-by-step way that helped me see what was missing and what needed to be reorganized and revised. I still have a lot of work ahead of me, but at least now I have a direction, which I didn't have before.
I'm definitely on the Scrivener bandwagon. It isn't crazy expensive ($44 when I bought it), and to me it's worth the price for the way it allows me to organize my work. They even offer a free 30 day trial so you can try it out to see if you like it.